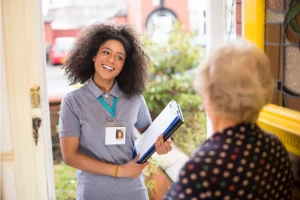 Whether you have recently become a carer or have been caring for many years, it can sometimes be difficult to know what services and support are available to suit your individual situation and needs. Advocacy can help.
Advocacy supports people to gain access to information and to explore options and consider possible outcomes. Most importantly it helps ensure that people's views, opinions and wishes are listened to and taken into account when decisions are made about their lives.
Our advocacy team can help you
access information and services
complete an Adult Carer Support Plan
explore your choices and options
be involved in decisions about your life and that of the person that you care for
defend and promote your rights and those of the person you care for
speak out about issues that matter to you and have your voice heard
Your friends and family, and the professionals that you work with, can be helpful and supportive but they are not independent, and so it can be difficult if you don't agree with what they think. As advocates, our staff are independent and are there to represent your views, not their own. They can help you write letters, support you at meetings or interviews, or speak for you when you don't feel confident to speak for yourself.
Subject to current guidelines we will meet with you wherever is convenient – be that at our offices, in your home, on Zoom or out somewhere over a coffee. Perhaps work or caring commitments make it difficult for you to meet during the day, and evening would suit you better.  Or if it's easier for you to talk to us by phone or email then that's what we'll do. We will support to you in the best way that we can.
We are normally open Monday to Friday from 8.30am to 5.00 pm, but appointments (by phone, in person or online) out with these hours can be arranged. Currently mail is not being picked up from the office on a regular basis so if possible please email or phone us. During evenings and weekends, if you or someone you know requires urgent social work support, please call 0800 811 505.