Volunteer with Carers Link
Our volunteers are part of the Carers Link team, providing  support to over 1000 carers each year.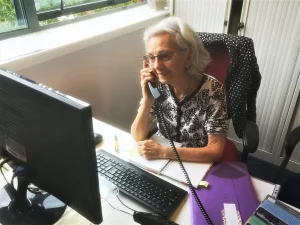 Why volunteer?
Volunteering can be (very) good for you. Most of our volunteers want to give something back, and make a difference to carers' lives – many of them have received support from Carers Link themselves.
For others, volunteering gives them an opportunity to use their experience and knowledge to help others, or to challenge themselves and gain new skills.
An important part of volunteering is the feel good factor that it generates. As well as a sense of pride and achievement, volunteering gives you the chance to be part of the Carers Link team, meeting different people and making new friends.
Can I volunteer?
The people we support come from all walks of life, and so do our volunteers. Volunteering with us can be a regular weekly commitment, or you may only be able to volunteer for a few hours a month. As long as you are reliable and enthusiastic, we will try and work something out, and we will provide any training you need.
What support can I expect from Carers Link?
We provide initial training for all our volunteers, and then additional training depending on your role. We also have regular update meetings and fun events.
We believe that volunteering should be open to anyone, and that cost should not prevent you from volunteering, and all reasonable travel expenses are reimbursed.
What can I volunteer to do?
You can see the range of roles below, but we are always open to suggestions
Volunteers call carers regularly for a chat about how things are going, and find out how they are feeling. The volunteer and carer build up a relationship which makes it easier for the volunteer to identify when extra help is needed, and for the carer to feel comfortable asking.
As well as supporting staff to set up events volunteers help make carers who come to our group events feel welcome, and reduce feelings of isolation.  Volunteers also help to deliver workshops such as the Seasons for Growth programme.
Do you want to improve the lives of carers by teaching them how to use new technologies to improve their lives? Tech Buddies teach carers about basic and intermediate computer use or smart phone / tablets on a 1-to-1 basis in the carer's home.
All of the services that we provide rely on the administration support provided by our office. Volunteers work alongside and/or with staff and other volunteers on a range of general office duties such as data entry, typing, organising appointments for therapies or counselling, reminding carers about events and groups, and preparing bulk mailings.
Our podcasts have two functions – they are a way for us to get information to carers about topics of interest, and our office banter series helps carers feel part of the Carers Link community.
A podcast volunteer can get involved in different ways.  There is the technical aspect – recording and editing the podcasts – but you can also be involved in deciding the topics that we cover and chatting to our guests.
Training and support is available for however you get involved, so if you enjoy podcasts and want to find out how it all happens, this is a great opportunity.
The Board of Directors of Carers Link ensure that Carers Link is run efficiently and properly, and that our funds are spent properly. They monitor the progress of the work of the organisation and make sure that it continues to meet the needs of carers in East Dunbartonshire.
As a volunteer fundraiser, you will have the opportunity to support Carers Link by raising funds to help us to continue to deliver our vital services.
You'll be able to assist with planning fundraising events, approaching potential donors and building relationships with supporters.  Anything from staffing our stand at events through to distributing our collection boxes.
Join us today and help make a difference!
We are normally open Monday to Friday from 8.30am to 5.00 pm, but appointments (by phone or online) out with these hours can be arranged. Currently mail is not being picked up from the office on a regular basis so if possible please email or phone us. During evenings and weekends, if you or someone you know requires urgent social work support, please call 0800 811 505.