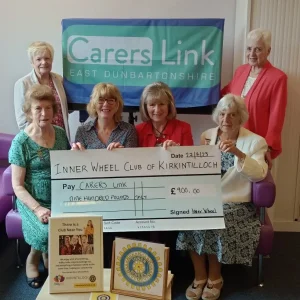 Picture shows President Margaret Pears and members of the Inner Wheel, Kathleen MacPherson, Morag Barron, Annette Adams, Dorothy Stewart and Veronica Regan, Fundraiser from Carers Link.
 The Inner Wheel Club of Kirkintilloch has once again proven their commitment to making a positive impact in their community by raising an impressive £900 for Carers Link. This invaluable contribution will directly benefit the young carers in Kirkintilloch supported by Carers Link, who often shoulder immense responsibilities and sacrifices from a young age.
Margaret Pears, President of the Inner Wheel Club of Kirkintilloch said, 'After hearing an inspirational talk from one of the Carers Link Young Carers, the Carers Link Young Carer Support Worker, and their Fundraiser, our members felt that Young Carers in our community are often overlooked and we would therefore like to support them through Carers Link.  We are delighted that, due to the generosity of members and friends, we were able to make this donation.'
Thanks to this generosity, Carers Link will be able to offer summer holiday activities, providing these young carers with a well-deserved break from their demanding responsibilities. These activities will not only offer a fun and memorable time for the young carers but also serve as a crucial opportunity for them to connect with others who share similar experiences.
The funds will also go towards supporting residential breaks for the young carers, allowing them to take some time away from their carer duties to relax and rejuvenate. These breaks can be transformative, offering a chance to escape from the daily challenges and pressures they face.
Jennifer Roe, Chief Executive of Carers Link said, "The contribution from the Inner Wheel Club of Kirkintilloch will hugely benefit the lives of our young carers and demonstrates the power of collective kindness and compassion to uplift and empower those facing challenging circumstances."
If you are interested in helping to support unpaid carers in East Dunbartonshire, please contact Veronica at Carers Link on 07827 062645, veronica@carerslink.org.uk or donate directly online.