Walkers at a wet and windy Glasgow Kiltwalk managed to raise nearly £3000 on Sunday 30 April for Carers Link to enable them to continue to provide crucial services for unpaid carers throughout East Dunbartonshire.
Eleven walkers, carers and supporters from Carers Link took part last Sunday and between them clocked up over 125 miles.
Also, managing to walk over both the start and finish line was Chloe Donlevy who has 2 rare conditions resulting in multiple disabilities.  Chloe's Mum, Clare, said, "Chloe has dystonia which affects the muscles all over her body but mainly in her lower legs and feet which means fully independent walking is not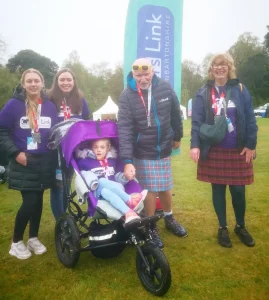 something Chloe has quite mastered yet.  She can only do a little supported walking at a time so her little legs worked extremely hard!  She had the best day and insisted on holding Sir Tom's hand for the photo."
Also pictured is Chloe's big sister Aimee who is a young carer and provides constant support and love for her little sister so this was Chloe's turn to give something back to Aimee.
Kiltwalk CEO, Paul Cooney, said, "We are so proud of the Glasgow Kiltwalk heroes for raising vital funds for 865 charities this year at Glasgow Kiltwalk and of course Carers Link East Dunbartonshire is one of those great charities!
Big congratulations to superstar Chloe and her family for completing their Kiltwalk challenge on April 30 and for raising awareness of Carers Link who play such an important part in the lives of many carers in East Dunbartonshire".
Val is the Carers Grant Coordinator at Carers link.  She and her friend Colette made a mighty effort with the Mighty Stride – walking a whopping 22.7 miles. Val said "It is the first time that I have ever walked this distance but the thought of doing it for Carers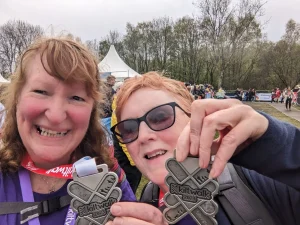 Link spurred us on, completing it in 8 hours.  Despite the weather, spirits were good amongst the walkers – everyone encouraged each other."
If you are interested in helping to support unpaid carers in East Dunbartonshire, please contact Veronica at Carers Link on 07827 062645, veronica@carerslink.org.uk or donate directly online.